With summer quickly coming to a close, have you taken a step back to evaluate your current yard? If you are looking to make some last minute upgrades this season, consider if a retaining wall might be the renovation you need. Although they all serve the same purpose, there are different types of retaining walls to choose from. Our team of masonry contractors is here to break down each one, the installation process and how they can help transform any space, both structurally and aesthetically.
What's the purpose of a retaining wall?
With a multi-level or sloped property, a retaining wall can serve as an aesthetically pleasing transition between uneven terrain. Retaining walls are often seen along side steps, driveways, sidewalks and other walkways. The main function these walls serve is to hold materials such as soil and mulch in place, and help prevent erosion or damage to the surrounding property. If installed correctly, retaining walls can last decades. Most importantly, they can survive the harsh winters of the northeast and rainy season in the spring.
What are some other uses of retaining walls?
Outside of their main purpose, retaining walls can increase your home's value. They add beautifully crafted stonework to the property, which can be enhanced with plants, trees and other foliage. One common example can be seen in projects where a patio is being installed. A retaining wall is an ideal, eye-pleasing option to help you easily create an enjoyable outdoor living space.
What are the different types of retaining walls?
There are a number of types of retaining walls, all that serve different functions, withstand varying weight thresholds and depths.
Gravity walls are the most common walls you will see on your every day drive through the neighborhood. These use the weight of their own heavy, interlocked stones to hold back the inner soil or other material.
Cantilevered walls are typically used for commercial purposes and can rise to heights in upwards of 15 feet. These use a base slab, reinforced with steel bars and poured concrete or masonry deep below the ground.
Sheet or bored piling is a technique often used in tight spaces. They are temporary and typically used as sea walls or in other areas with high erosion and soft ground.
Also used in areas of high erosion are gabion mesh walls. Walls built with this technique are covered by a layer of wire on top to help hold them together.
How can I get the strongest type of retaining wall possible?
The anchored technique can be added to a wall that uses the above methods. With this, the wall is anchored into the ground using bars, cables and concrete. This adds support for walls that will withstand heavier than average loads.
What is the retaining wall installation process?
Any retaining wall above three feet must be installed by a professional. The first step in the process is to make sure drainage is adequate at the base to ensure long-term stability. Depending on the material and method chosen, the next step will involve laying down a thin layer of fabric to prevent soil from seeping through. From there, your team will pour, interlock or stamp in the chosen material and add in rebar and any other support needed. The wall must also be carefully measured so it is properly sloped backwards. Commercial retaining walls need extra support, while the more basic residential options can be done with a few simple interlocking pieces. No matter the chosen method, all steps of the process must be handled with care, or you run the risk of a collapse, major damage and cleanup.
What are the different types of retaining wall materials?
The three main types of retaining wall materials include stone, masonry and concrete. Poured concrete is strong, smooth and durable. It can also be shaped into intricate designs. Although it has its benefits, with its ability to crack, concrete does not make for the most practical material when it comes to making repairs. Unlike concrete, stone walls are ideal as the individual pieces can be replaced. You can also choose from different colors and shapes to customize the design to your liking. If you really want something to last decades, our team would recommend a masonry retaining wall.
What's the most important thing to know about installing a masonry retaining wall?
Masonry retaining walls are complex, so a DIY masonry wall is certainly out of the question. Certain factors such as height will play a role in whether or not you will need to secure a permit before beginning installation. Talk to your team of masonry contractors to help guide you through the process.
How do you pick the best team of masonry contractors?
Due to the intricacy of a masonry retaining wall, you will need to call in a team of expert contractors to complete the job. The process includes installing rebar and other structural support. A professional contractor will know what to look for during the inspection process of the site before beginning. This is important in proactively correcting any problems before they arise. Find a team that works for you by checking out testimonials from real customers.
Do you need retaining wall experts after installation?
It is important to keep a close eye on your retaining wall once installed. Small issues can quickly escalate into larger problems that can potentially be a safety hazard. Small cracks can be filled, but a professional should be called in to ensure there is no structural damage. In addition to cracks, retaining walls can face other issues including leaning, dips and bulging. These can all lead to a collapse or other damage. Be sure to work with your team if you suspect any issues.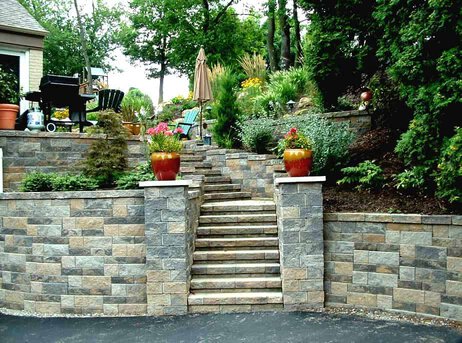 Want to know more about the different types of retaining walls and the installation process? Contact our team of masonry professionals at Limitless Golden Construction. They are here to help answer any questions you have. Call our Westchester and Putnam County office for a free virtual quote and more accurate retaining wall installation costs at 914-810-3125. You can also check out the testimonials section on our website to find out what our clients have to say.